Domaine de l'Amandine
A new generation continuing in the footsteps of an established lineage of winemakers...
In Provence, in the heart of the Côtes du Rhône vineyards, Domaine de l'Amandine lovingly cultivates 46 hectares of vines situated in Séguret, one of the most beautiful villages in France.
Discover
Today, Mathilde Suter, the 4th generation of Domaine de l'Amandine, is taking the reins, accompanied by her parents Sabine and Alex. A family endeavour that has continued to grow and evolve over the years.
A deep connection with the terroir
The story begins in 1968, when Jean-Pierre Verdeau, accompanied by his wife Maryse, creates Domaine de l'Amandine. Spurred on by the ambition to make his own wine with the few hectares bequeathed to him by his father, Jean-Pierre works tirelessly to extend and develop the domain. The wine is initially sold in bulk to negotiants. Thanks to his vision and determination, Domaine de l'Amandine grows. In 1984, with the purchase of the Grange Vieille vineyard in Vaison-la-Romaine, with its 6 hectares of hillside vines, the domain begins to produce higher quality wines. Two years later, the investment in a bottling machine allows Jean-Pierre to start selling his own wines.
Jean-Pierre continues to run the domain until 2013, when his daughter Sabine and his son-in-law Alex Suter join him, breathing fresh energy and dynamism into the winery. Alex, an Englishman, grew up in South Africa, where his father managed a well-known winery in Stellenbosch.
Two years later, their eldest daughter Mathilde, having studied viticulture and oenology, follows in the family footsteps and becomes part of the team at L'Amandine.
Today, Sabine, Alex and Mathilde, under the watchful eye of Jean-Pierre, are working hard to keep the families proud wine-growing and wine-making traditions alive. Their deep bond with the terroir finds full and eloquent expression in the wines of Domaine de l'Amandine.
Between rolled stones and alluvium
Varying from limestone hillside slopes to alluvial plains, our different terroirs provide our vines with all that they need to produce grapes bursting with sunshine and flavour. Finding the right balance between human involvement and the natural biological cycle of the vine is essential in order to allow each terroir to reveal its uniqueness and character.
Our "Farnier" and "La Montagne" plots reach, at their highest point, an altitude of 300m. The altitude and the surrounding forests allow for greater temperature variation, with cooler nights bringing a discernible freshness to the wines. The distinctive features of the "La Montagne" terroir are its soil of flat limestone pebbles, which absorb the heat, and its terraced vines planted in the form of a natural amphitheatre. Underground mineral springs contribute to the characteristic freshness of this terroir.
The plots of "Saint Véran" and Jonquières, on the banks of the Ouvèze river, are planted on rich alluvial soils that cope well with the dry climate.
This varied terroir allows us to produce a range of wines with different characteristics and styles. The choice of grape varieties and blending techniques enhance these differences.
Discover our elegant range of wines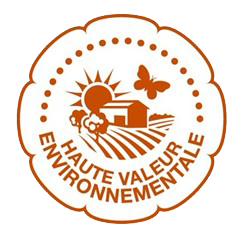 ECO-RESPONSIBLE
Sabine, Alex and Mathilde are concerned about the world of tomorrow and are committed to conserving the planet.
Eager to build that commitment formally into our wine-growing and wine-making practices, the first step was to obtain the High Environmental Value (HVE) label in 2018. The next natural step was to convert to Organic Agriculture (AB) in 2020.
In fact, these labels simply reflect the longstanding environmentally friendly ethos and approach of Domaine de l'Amandine, which for many years has been preserving biodiversity, not only through the conservation and maintenance of surrounding woods and forests, but also by growing olive trees on some of our plots.
PROVENCAL COOKING CLASSES
Sabine celebrates Provence in her cooking. When not in the vineyard, she offers classes to gourmets from all over the world. An Epicurean, she skilfully matches her dishes with the vintages of the domain.
You will learn to prepare several typical Provençal dishes in the family's farmhouse kitchen. You will then enjoy the meal together, the food paired perfectly with the wines of the domain.
2 people minimum, 8 people maximum.
Information and reservations at 06 71 25 69 01 or sabine@cooking-in-provence.com
OUR GITE
If you would like to spend some time in Provence in an idyllic rural setting, surrounded by our vines and olive trees, then we recommend a stay in the Grange Vieille, a cosy gite that is ideal for 2 people.
Information and reservations at 06 04 10 64 72 or 06 71 25 69 01.
Under French law it is illegal to sell alcohol to minors under the age of 18. Proof of age is required for all online sales.

OUR BROCHURE
Download the PDF

OUR PRESS KIT
Download the PDF

OUR WINES
An elegant expression of our terroir

OUR ONLINE SHOP
Browse and buy the full range of our wines
Visit the winery

Tasting and wine sales :
October to April
Monday to Friday :
8h00 – 12h00 / 13h30 – 17h30
Saturday by appointment
May to September
Monday to Friday :
9h00 – 12h00/ 14h00 – 18h00
Saturday :
10h00 – 12h00 / 15h00 – 18h00
Found out more
Affiliate member ADELPHE A8400589
We contribute to the recycling of our packaging